Moose Family & Friends II

Shifting to Scanning Overdrive!

Lori Standish

Here with daughter Kristen, July 1997.

Teresa Achenbach

(Above) Teresa's 40th birthday party.

(Left) Taken at her going-away party (sob!), June 2000.Teresa was the first full-time employee Robert theoretically supervised, but we all knew who the real boss was. We don't see her much anymore and we miss her tons. Maybe she'll see this page and remember to come to the Christmas Party this year!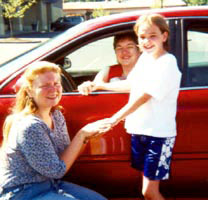 Cathy Currie

Here's Carol at the 2000 Heritage Festival with Cathy Currie, a Recreation Coordinator who's now retired. She's also a killer stamp lady!

Laura Van Horn

Shown here with mom Maria Van Horn (in a rare good photo!), May 2000.

The Safety Mouseketeers

Shown performing at the Recreation staff Christmas Party, December 1990. (l-r) Robert, Shelley Brittingham, Jan Contento, Donna Oster-Dahl, Sharon Roberts. This is still regarded as the best staff party to date - As Parks rookies, Shelley and Robert had to help plan the party, and this is one of the results. We sang about the importance of bending your knees and washing your hands.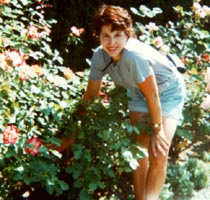 Jennifer Bosanko

(Above and left) Minter Gardens, British Columbia, July 2000.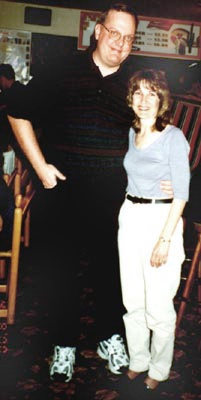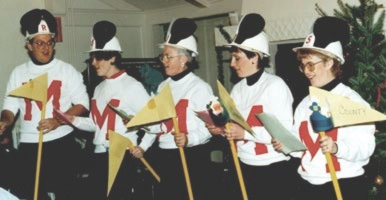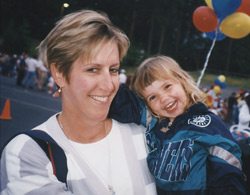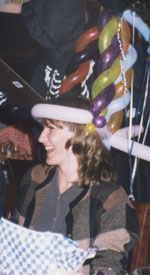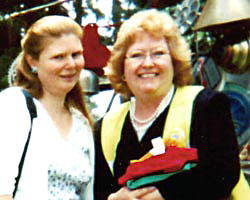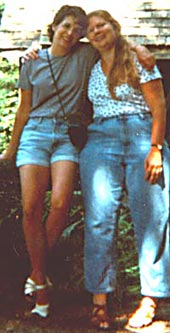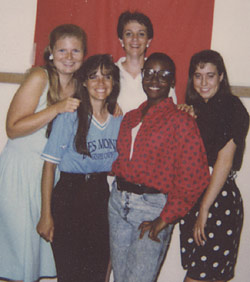 Rainbow Club Staff

KC Parks program for devlopmentally disabled. (L-R) Carol, Sharon Boyle, Donna Oster-Dahl, Tina McKenzie, Carol Boyle. August 1991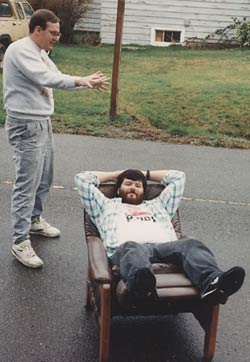 David Leone

Co-worker of Carol at Northwest Center, shown here moving a recliner (sort of). April 1992