Robert's Page

Welcome to my little corner of cyberspace, I hope you enjoy your stay. My name is Robert Nunnenkamp, and I live in Redmond, Washington, with my wife Carol and our daughter Tori. I work in the Parks Division for King County. King County is the 12th largest county in the country, with over 1 million people living in it. It has 38 (and counting) incorporated cities inside its boundaries, including Seattle.

After spending 11 years as a Recreation Coordinator scheduling ballfields, tracking finances and writing reports, I changed positions in 2000 to become a Property Agent, writing permits for things like sewer line installations and cell phone towers. I work with a lot of great people, some of who are shown below.

When I'm not working, I'm playing basketball or softball, or hanging out at home driving Carol and Tori crazy (usually watching way too many TV shows like Star Trek, South Park, Spongebob Squarepants and The Simpsons). Between bouts of surfing or playing poker on the web I also take on the persona of Webmaster Bob, creator and maintainer of toritimes.com, the best damn web site you're visiting at this very moment.

I also help raise money for Cystic Fibrosis research through the
Great Strides
walk (I've been the Committee Chairman since 2000). Stop by the
Tori's Troopers
page to find out more. After that, donate some money for CF research!
Group shot for the Marymoor Business Plan, January 2000

1st row: Dwight (kneeling), Angie (crouching) Everyone else, L-R: Tom, Krisann, Norah, Robert (with cone on head), Donna, Teri, Elvis, Gary, Captain Kirk, Andy, Eric (in mask), Karl, Lynn, Helen, Kathy H.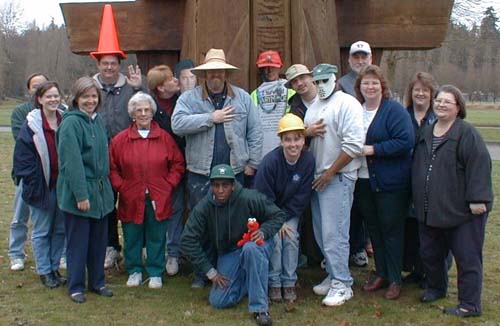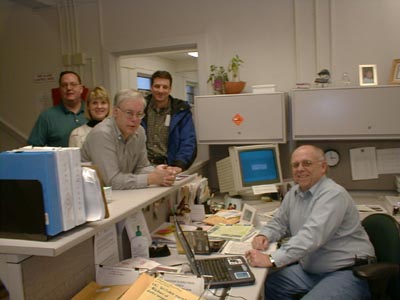 Program Development and Land Management Refugees, Dec 2001

My work unit was changed rather dramatically for 2002, with several people  moving to other jobs or to other states. These are some of the survivors.

L-R: Robert, Shelley M, Tom Eksten, Kevin Brown, Joe Wilson.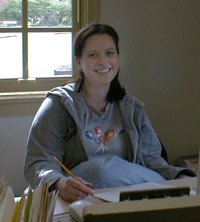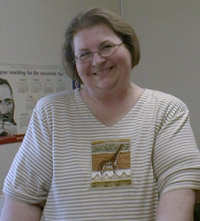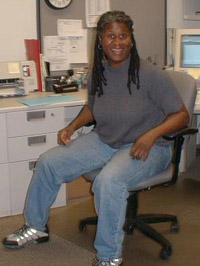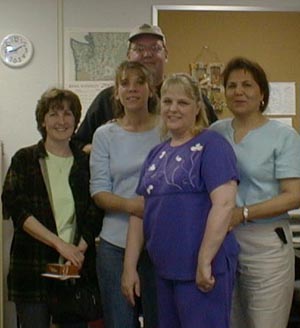 Lake Wilderness Office Staff, April 2002

(L-R) Teresa Achenbach (who was just by for a visit), Edna Walker, Pam Schellhase, Rosalinda Rosales. Tori and I were out and about on Take Your Daughter to Work Day, so we stopped by.

Kathy Hardy

Best darned facility scheduler that ever worked for me. She can suck the venom out of any grumpy customer better than anyone I know.

Jeannie Anderson

Jeannie now works for the city of Bellevue. She worked with our teen programs before budget cuts intervened.

Krisann Ribik

Krisann's main responsibilies revolved around Specialized Recreation programs until budget cuts hit.

Machelle Jones

Machelle does most of my dirty work for me by making sure all the paper I push gets pushed in the right direction to the right people.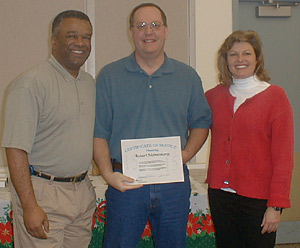 Here I am receiving my 15-year service award, flanked by County Exec Ron Sims and now former Parks Division Manager Suzanne Little. December 2004.