Texas Hold 'Em Tournament 2007

February 10th - Tour de Tori stop #1

The first stop in our 2007 fundraising buffet was the 3rd annual CF Foundation Texas Hold 'em poker tournament and Casino Night, presented by
Gillis Auto Center
&
Riverside Ford
. This year's venue was the FSN Lounge at Qwest Field, where over 200 players competed for a $10,000 seat at the World Series of Poker.
Tori's Tilters
were there once again, with Robert playing poker and Carol providing moral/shopping support. Cara Capuano from
Fox Sports Northwest
along with special guest & auctioneer
Joel McHale
wrangled the crowd during the live auction, which included the winning bid of $6,000 for the
12th Man Trailer
, fresh off its season-long appearances at Seahawk home games. The night netted over $120,000 for CF research.
For the first time the poker portion of the Tilters team made it through the first round - I had enough luck to catch some good hands and enough common sense not to chase after low percentage draws. I busted two people at my table and wound up one of the top two players from my table to move on to the next round. With 80% of the field now gone, the remaining 40 or so players all started even. I picked up one pot along the way, lost some chips when I bet big with A-Q, and finally went out a few hands later in about 20th place or so. I keep finishing higher every tournament, so look out next time!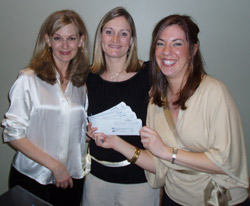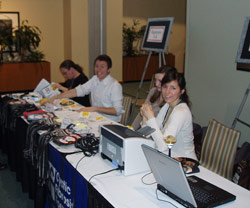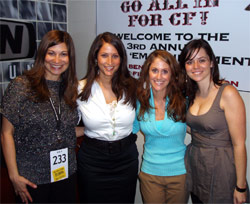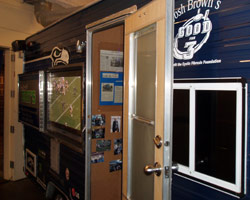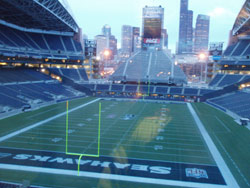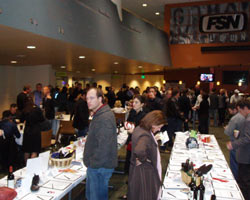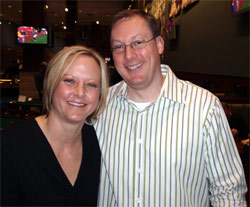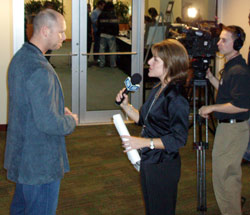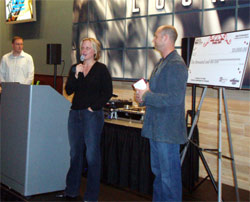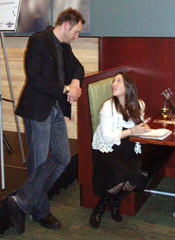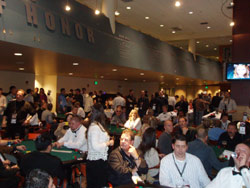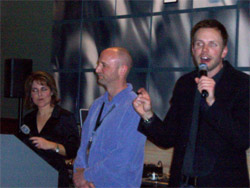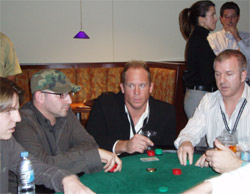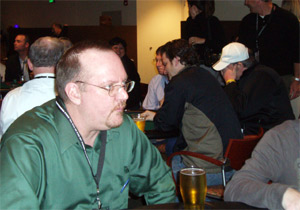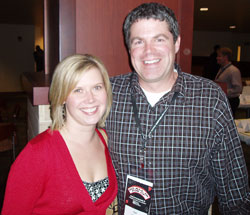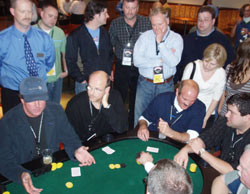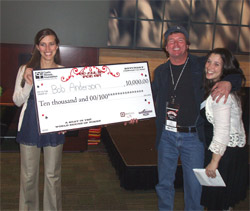 Dottie, Callie and Bridgette from the CF Foundation office were posed and ready at the Express Check-out line.

More CF Foundation staff checking in players.

Who wouldn't buy tickets from these raffle ladies?

The 12th Man Trailer fetched $6,000.

View of the field from the FSN Lounge.

Lots of stuff and people at the silent auction.

CF parents Danica and Kris Pytte.

Josh Brown doing his thing on FSN.

The FSN Lounge was great, with lots of room, a great view of the field and lots of video monitors. The sound system needs some TLC, though.

Cara Capuano and Joel McHale auction off a high rollers night with poker pro Lee Markholt.

Make up your caption if you like  - here's Joel talking with Tirza Sanchez.

A friendly poker game for a good cause? At times, yes, but other times, it's the Moose Stare of Death. I should be happier, my beer glass is full. The other players at my table look a bit stressed, probably because they are starting to realize they won't be around much longer.

Liisa and Karl Waara from Evan's Dream Team. Karl made it further than Robert, so the CF dads did very well this time around!

The final table included Double R from KISW, seated at right.

The evening's winner was Bob Anderson. Now let's see if the bank will take that check!