Vancouver, BC Walk for CF

May 25th, Tori's Troopers World Tour Stop #6

Zellers
is a department store in the Hudson's Bay Company family. For comparison, the closest American equivalent is probably Target. Since 1986, Zellers has raised over $20,000,000 for the Canadian Cystic Fibrosis Foundation. A lot of this money is raised throughout Canada each year on the 4th Sunday of May by the Zellers Family Walks for CF.
We usually hang around home on Memorial Day weekend, so this event was a good fit for our World Tour. It also didn't hurt that Robert recently found an envelope with $72 Canadian he had stashed away several years ago.

The walk route followed the 5k course in and around Bear Creek Park in Surrey, which is a few miles south of Vancouver. The park is 150 acres big and contains sports fields, running track, swimming pool and miniature train ride. It rained on the drive up the day before, but skies were dry and partly sunny for the walk. The crowd was dominated by Zellers employees and their families, so the event felt more like a company picnic. We were semi-adopted by store #360, which is in Langley, BC.

After the walk we had a barbeque lunch with hamburgers and hot dogs.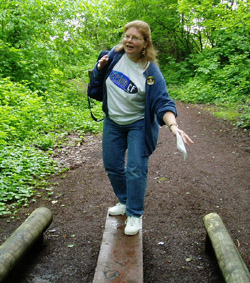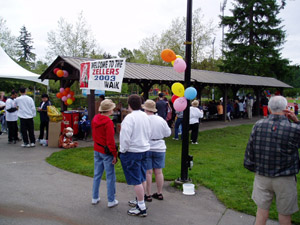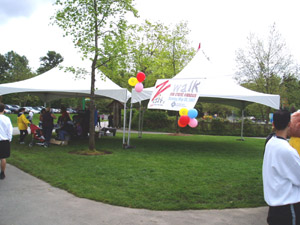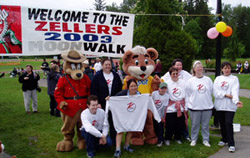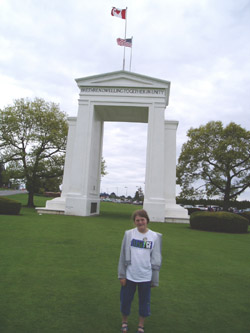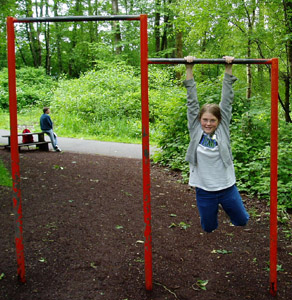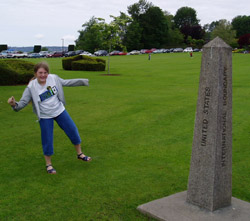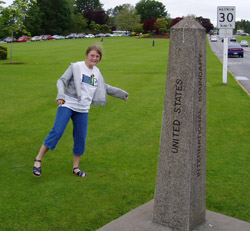 Here's one of the Zellers teams posing with Zeddy and the RCMP Bear.

(Above and Below) Part of the walk route followed an excerise course, which we felt we had to utilize for a photo op.

The Peace Arch at the border in Blaine, Washington. The wait was about an hour in each direction, and the dry weather on the trip home gave Carol and Tori a chance to walk around.