Olympia Great Strides 2003

June 21st, Tori's Troopers World Tour Stop #9

This was the final World Tour stop, the 9th event in 10 weeks. This second-year event was held at Heritage Park in Olympia and featured a four-mile walk around Capitol Lake to Tumwater Historical Park and back. The weather was a bit wacky - sunshine, clouds, wind and rain showers made for a interesting time. 180 walkers turned in $40,000 in donations, a 30% increase over last year's rookie effort. The event was held in memory of David Fanning, a CF adult who recently lost his battle with CF. His Safeway co-workers provided the barbeque lunch for everybody and KAYO radio did the emcee work.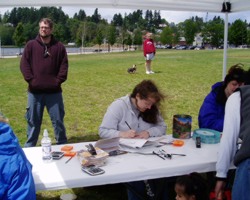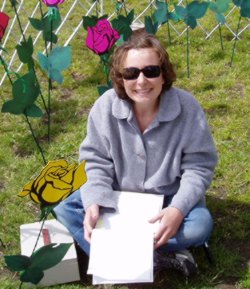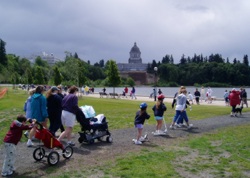 (Left) The Troopers with Kris and Brandie Maxwell from Gidget's Group.

(Right) Joy Fischer from the CF office manning the 65 Rose Garden.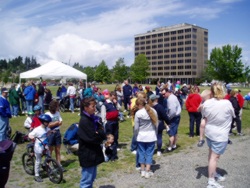 Super Helper Eileen working the registration while fellow Super Helper Ty Garfield stands tall against the wind. In the background is an apparently confused woman walking her dog.

The crowd gathers before the race in some sunshine and wind. The wind would continue for the rest of the day, the sunshine would not.

The sky turns more threatening at the beginning of the walk. We did get rained on a couple of times, but only for a few minutes each time.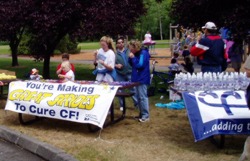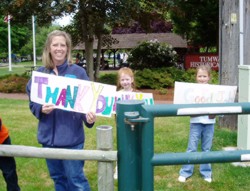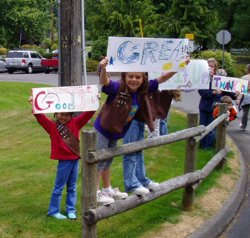 The Brownies were out in force at the halfway point cheering on the walkers. The rest stop included water and fruit to recharge your body for the two mile walk back to the finish line.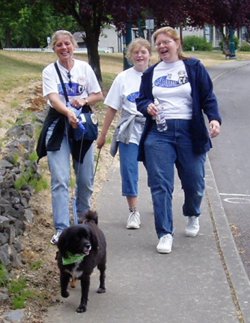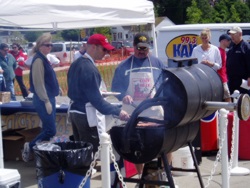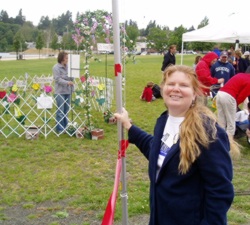 (Above) Carol held up a pole at the start line while we figured out a strategy to battle the wind. In the background Joy did a good job staking the Rose Garden in the ground, which seemed more like concrete with some dirt sprinkled on top.

(Left) We met up with Kris and her dogs Ruby and Patches at the halfway point.

Hot dogs and hamburgers were cooked up on a barbeque adorned with headers, an air cleaner and rear view mirror.