Connell Bike-a-Thon 2003

April 19th, Tori's Troopers World Tour Stop #1

This is the 19th annual bike-a-thon in Connell, a community of about 3,200 in eastern Washington, about 30 miles north of the Tri-Cities. Julie and Greg Hart do a fantastic job with this event every year and we decided to experience it firsthand in 2003. This year's event had 260 cyclists and raised over $59,000.

The course is one mile long on the streets around a residential neighborhood. The streets were blocked off from traffic, giving everybody plenty of elbow room. Tori did 22 laps and Robert rode for 30 laps despite an extended pit stop to fix a flat tire.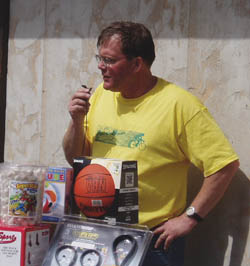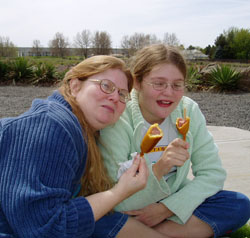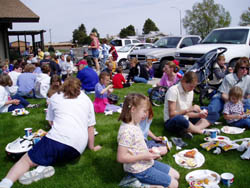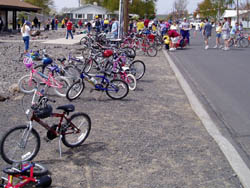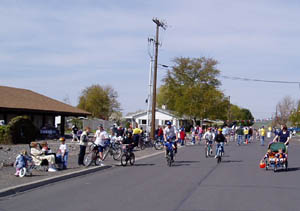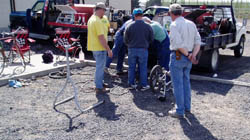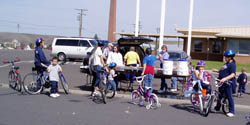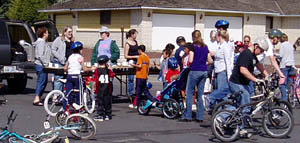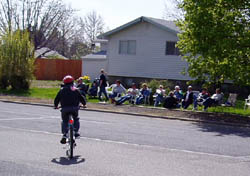 Riders lining up prior to the start. That's Robert and Tori in back.

This is looking back at the start/finish line. Volunteers punched a hole in each rider's card as they passed through here to count their laps.

(Left and Right) There were two rest stops on the course where you could get water and yummy treats. I think Tori spent as much time here as she did actually riding!

Neighbors set up chairs to watch the cyclists as they rode around the course.

(Left and Right) Here's the crew that kept everybody's bikes up to snuff. Without them fixing Robert's flat tire he would've been done after only seven laps.

The bikes are parked after the ride so everybody can eat and count up their pledge totals.

The cyclists enjoying their lunch.

Nothing like a corn dog after riding for three hours! Carol was a one-person pit crew for the Tori's Troopers riders.

Here's Greg Hart giving away prizes after everybody ate. The Harts do a great job with this event and we hope to be back next year.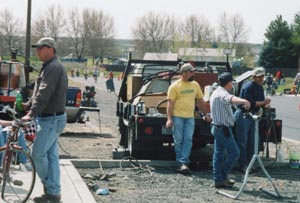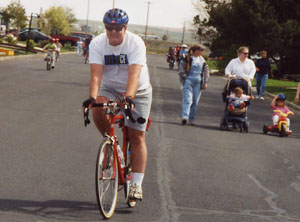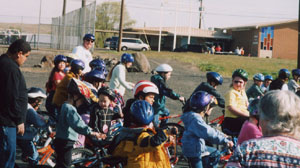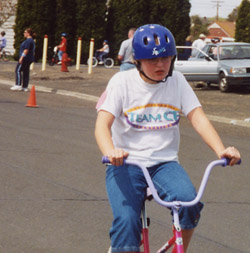 (Left) Here's Tori completing another lap. Although the rest stops were her priority during the ride, she still completed an impressive 22 laps.

(Right) Robert has he maneuvers through traffic. Even with all the different riders and walkers on the course, there was ample elbow room, thanks to having one-way bike traffic the entire width of the road for most of the course.