CF Pub Crawl 2002

This is a new event that Sydney at the CF office started this year. For a $25 entry fee, each person gets a coupon for a beer at each of the five participating taverns, one for a Tully's beverage and a Pub Crawl t-shirt. You have about five hours to walk between the taverns to use up all your coupons. Robert helped direct foot traffic for registration and then got to participate with some of the CF staff and friends. We only had about three hours, so we didn't get to the last two on the list, but made the other three stops count!

The event was capped at 600 participants so it was managable for the taverns, and we turned away about 75 people after we reached the limit. 600 people for a first-time event is an astounding figure, and the CF staff, volunteers and participating taverns did a great job. 600 people also means a net $12,000 for CF research.

Maybe we hit on something here - after doing events like walks, bike-a-thons and stair climbs, maybe people really just want to give money so they can drink!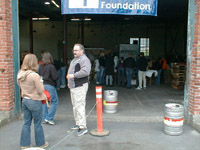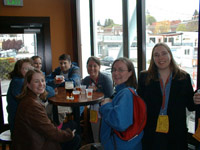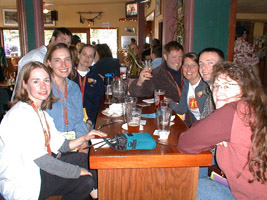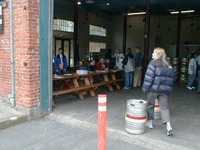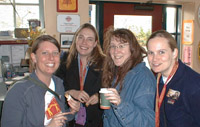 Registration was at the Red Hook Brewery. At left is ID checker Mike, on the right is the pre-registered crawler check-in table.

The third stop was the Trolleyman Pub at the Red Hook Brewery. By this time, I stopped including the guys in the photo!

L-R: Allison, Amanda, Eileen and Shelby.

The first stop after 3 hours of registration help was the Nickerson Street Saloon for a couple beers and a Big Fattie Burrito.

Clockwise from left: Kathy, Amanda, Phil, Shelby, Ty, Allison, Kevin, Eileen.

The second stop was the Red Door Alehouse. Aubra from the CF office joined us here for a bit (second from right).

Can't get enough of that CF Fun? Here are links to the other events with a Trooper connection!