Seattle Great Strides 2002

We exceeded our goal again this year, with 700 walkers raising $178,000! The weather was cool and cloudy, but no rain fell during the walk. 50 Troopers and 3 dogs walked this year, with a great turnout again from Tori's Explorer School classmates. Great food again from Longhorn Barbeque, and we handed out 100 bare root roses for walkers to take home.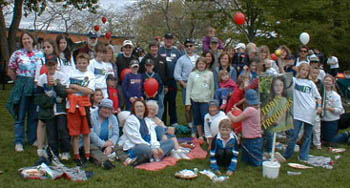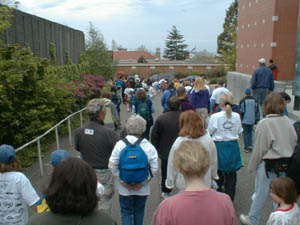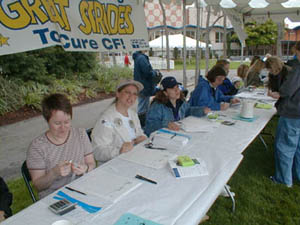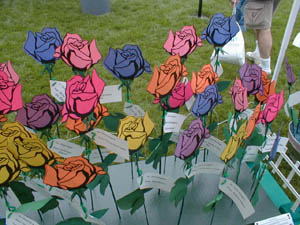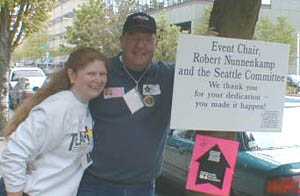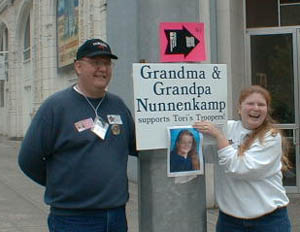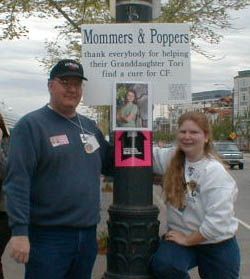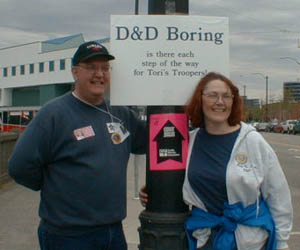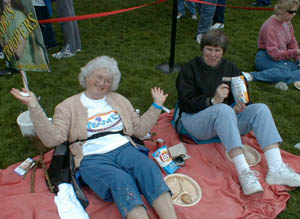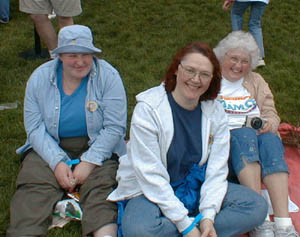 Here are the five signs attributed to Tori's Troopers this year. The one at top left was a freebie - it's good to be the Committee Chairman!

Top right is the Gwin family. They posed with the photo when Tori got too far ahead in the pack!

Bottom right is the rest stop sign from Dale and Donna Oster-Dahl's D & D Boring. When Shelley wasn't posing for photos, she was re-telling her 'How I Met Robert' story.

42 of the 50 Troopers for 2002.

(Left) The crowd of walkers heading for the first corner.

(Right) A portion of the Rose Garden, where we had 5 roses this year.

CF parents Kris Maxwell and Dawn Cochran (middle) help check in walkers.

(Left) Jan and Ruth  finishing up their Longhorn Barbeque.

(Right) Jody, Shelley and Jan hanging out after the walk.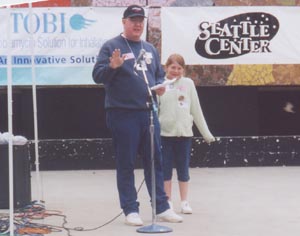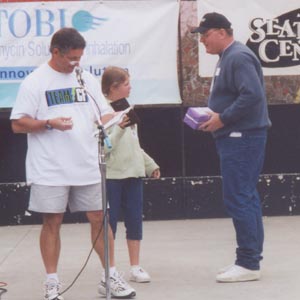 One of the scariest things at the walk (for the walkers, not Robert) is when Robert gets on stage to perform his Chairman-type duties. Here we think he's reassuring the crowd of 700+ that there will be enough Longhorn Barbeque for everyone. Either that or he's thanking the committee members.

Tony Ventrella from KIRO-TV helped greet all the walkers. After Robert was done talking, Tony gave him a thank-you present, a cool little sneaker on a wooden base. In return, Robert gave Tony a Tori's Trooper button.

Can't get enough of that CF Fun? Here are links to the other events

with a Trooper connection!