Lynden Bike-a-Thon 2002

Lynden is a small city east of Bellingham, Washington, just south of the Canadian border. For each of the last 19 years, the VanderPol family has organized a bike-a-thon to raise money for CF research. The 2/3 mile course does a loop around the fairgrounds, including going through four of the barns.

Robert participated the past two years, and this year the whole family made the trip with Tori cycling and Carol the designated team photographer and cheerleader. When the last lap was counted, Robert had completed 67 laps (44 miles) and Tori finished 50 laps (33 miles). The weather was great and the Trooper duo avoided injury. Being injury-free is a welcome change, since Robert has had a tendency crash into objects (a curb and a barn) the past two years.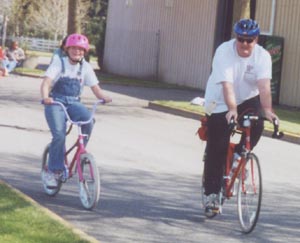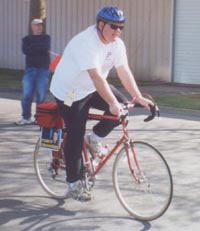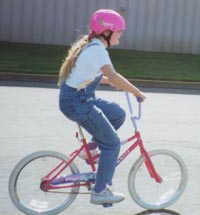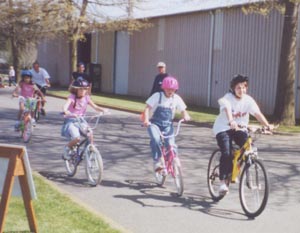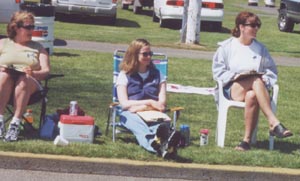 Tori and Robert completing another lap.

Robert rides a touring bike, which has 27" x 1 1/8" tires inflated to 100 PSI. Put an eighth of a ton of weight on those and be glad you're not one of his tires!.

Tori's shown riding her 20" bike, which it looks like she's just about outgrown! This is as high as the seat and handlebars can go, so it looks like it's new bike time.

Shelby Dopp from the CF office was there counting laps.

With over 130 cyclists of all ages, abilities and speeds on the course, quick manuevering was sometimes necessary. Here's Tori steering through some slower traffic. Hope she doesn't drive like this when she gets older!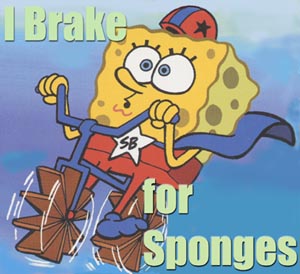 This is what cyclists saw on the back of Robert's bike as he passed them, or in rare cases, when they passed him!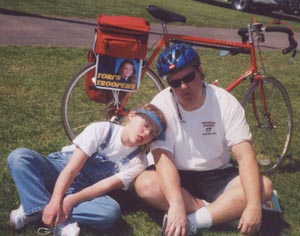 This is what what riding around in circles for five hours will do to you!

Tori's Ode To Lynden

My hands are cramped,

My legs are sore,

I'm thankful I didn't run into a door.

Can't get enough of that CF Fun? Here are links to the other events

with a Trooper connection!