Pioneer Square Pub Crawl 2004

March 6th, Tori's Troopers World Tour '04 Stop #1

Now in their third year, CF Pub Crawl events take advantage of a simple fundraising principal - give people alcohol and they'll give you money. The first pub crawl of the 2004 season was held on March 6th at 10 local taverns in the Pioneer Square area. A $30 fee got you six small cups of yummy Red Hook beer, a coffee from Tully's, restaurant discounts and an event t-shirt. About 250 thirsty fundraisers netted about $6,500 for CF research. A bonus for the day was watching the UW Huskies men's basketball team beat the #1 ranked and formerly undefeated Stanford Cardinal.

Tori's Pub Crawlers is an elite drinking team dedicated to, well, drinking. Robert had been the sole member the past two events, but this time around the Pub Crawlers fielded an astounding 12 members! Thanks to Joy Fischer at the CF Foundation office for organizing the event and to everyone who crawled for a cure!

The 'Before' picture. 8 out of our 12 crawlers right after check-in.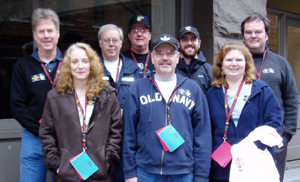 Stop #1, the J & M Saloon.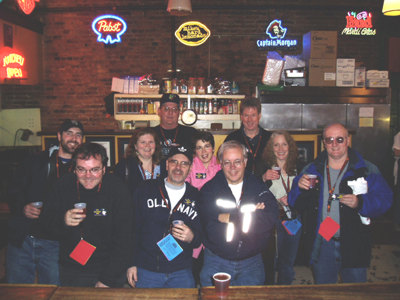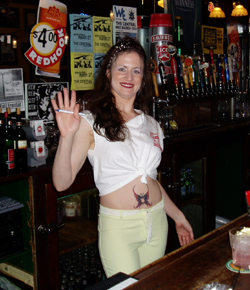 Stop #2 was the Central Tavern.

(Left)

Russ and Jennifer caught up to the team.

(Right)

The Central's bartender.

(Below Left)

Carol and Jennifer enjoying a drink at the Central.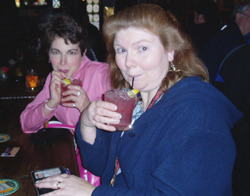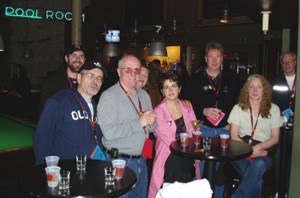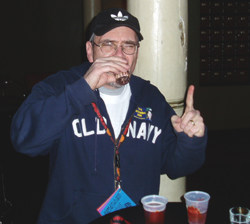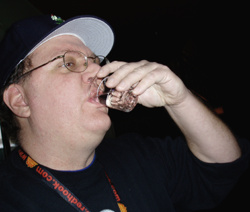 Stop #3 was Temple Billiards. For us it was all drink, no pool.

(Above) Robert drinking his schnapps and taking a self-portrait.

(Above Right) Greg doing a Statue of Liberty.

(Left) Group shot at Temple Billiards.

(Right) Stop #4 was Tiki Bob's. Group shot with all 12 of Tori's Pub Crawlers.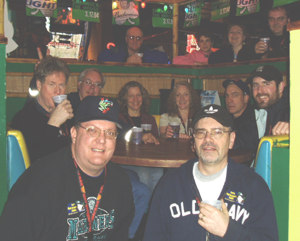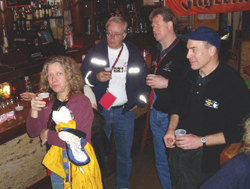 Stop #5 was King Street Bar & Oven. This is where we watched the Huskies win. At left some of the Pub Crawlers are shown focusing on the game while not neglecting their drinking duties.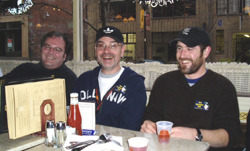 Stop #6 was FX McRory's.

(Top) Jay, Greg and Matt having a good time.

(Left) The team poses while waiting for their beer.

(Below left) A photo for the Garfield Groupies!

(Below middle) Kathy and Tom

(Below right) Allison and fellow CF helpers.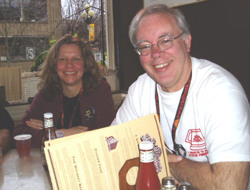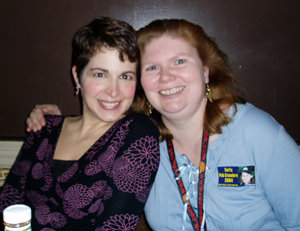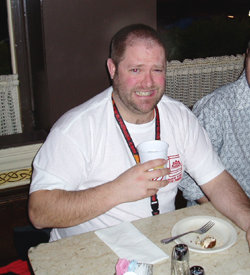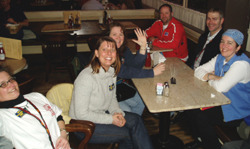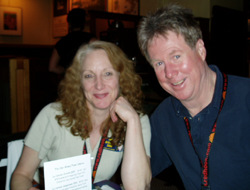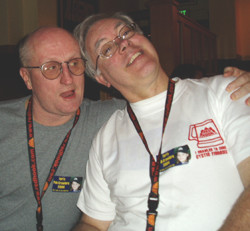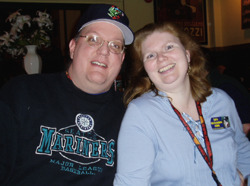 (Above and left) Stop #7 for part of the team was Trattoria Mitchelli for some Italian food.

A quick stop after that at the Elliot Bay Book Company and our day was done!