Since we know two people who suffer from Crohn's Disease, this event seemed like a natural when we found it in 2004. Robert and
Tom Eksten
organized the first-ever walk for the
Semi-Colons
("
We're Crohnically Demented!"
). The inaugural 2004
Semi-Colons
had six team members -
Connie Blumen
, Mike Crandell,
Tom Eksten
, Carol, Robert and Tori. Of course, once we got to Magnuson Park we found another team with the same name, so a name makeover was necessary for 2005.
After much consultation, debate and beer drinking, we went with what our gut (pun intended) told us: The General Colon Bowel Movement. This year's walk is Saturday, June 7th, at Magnuson Park. Check-in begins at 4:00pm and the walk starts at 5:00pm.

What is Crohn's Disease?

Crohn's disease is a chronic (ongoing) disorder that causes inflammation of the digestive or gastrointestinal (GI) tract. Although it can involve any area of the GI tract from the mouth to the anus, it most commonly affects the small intestine and/or colon. Crohn's and a related disease, ulcerative colitis, are the two main disease categories that belong to a larger group of illnesses called inflammatory bowel disease (IBD).

Both illnesses do have one strong feature in common. They are marked by an abnormal response by the body's immune system. The immune system is composed of various cells and proteins. Normally, these protect the body from infection. In people with Crohn's disease, however, the immune system reacts inappropriately. Researchers believe that the immune system mistakes microbes, such as bacteria that is normally found in the intestines, for foreign or invading substances, and launches an attack. In the process, the body sends white blood cells into the lining of the intestines, where they produce chronic inflammation. These cells then generate harmful products that ultimately lead to ulcerations and bowel injury. When this happens, the patient experiences the symptoms of IBD. For more information go to
ccfa.org
.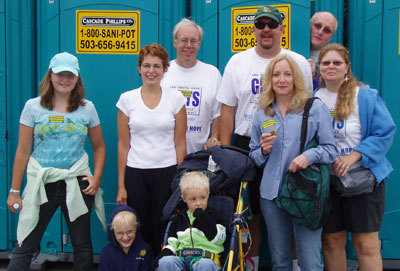 The 2005 General Colon Bowel Movement


The General Colon Bowel Movement

We've participated as a walk team since 2004. You can find photos from each year by clicking below.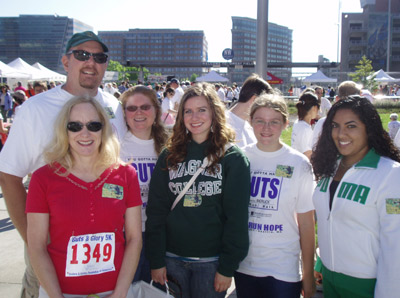 The 2006 General Colon Bowel Movement

Take Steps for Crohns and Colitis

This is a new name and a return to the former venue for 2008. In 2004 this event had 1,100 runners and walkers and raised over $78,000. 2005 was even better - 1,280 participants raised over $106,000. The 2006 and 2007 events went even further, raising over $140,000 each year. We want to make 2008 our best year yet, so come join the
Movement
or dig into your wallet!
Click here
to go to the event page to register. To donate online you can
click here
.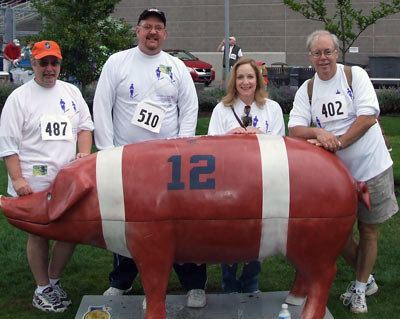 The 2007 General Colon Bowel Movement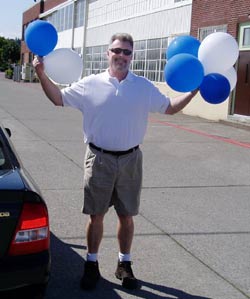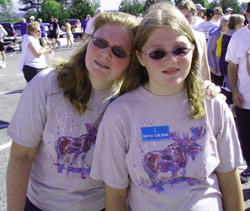 No team photo was done for the 2004 Semi-Colons, but here are Mike, Carol and Tori from that day.