Wind limited time on the beach, but we still managed to play in the sand, as shown in the photos on this page. Everybody stayed away from the water for the most part, mainly because the water temperature hovered around 55 degrees. We squeezed in a beach birthday party for Tori, and Robert turned another year older as well. Evenings were a combination of weenie roasts, meteor watching and games, including the aforementoned Spongebob Uno. Everyone brought an assortment of reading material as well, so you could do as much or as little as you wanted.

Robert went a bit nuts in the sand this year, with 3 sculptures, Spoon/Spatula, Sandward and Mojo Jojo. Spoon/Spatula is inspired by chat room buddy Danno337's 'Spatula' sound played in response to Robert's 'Spooon!' sound file. It's hard to explain, you have to be there to fully appreciate it. Sandward is a representation of Squidward from Spongebob Squarepants, and Mojo Jojo is from the Powerpuff Girls. Mojo didn't quite get finished, as the approaching tide called for cutting corners.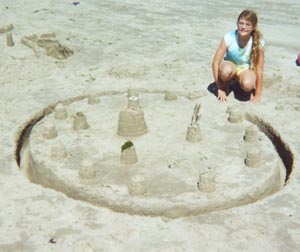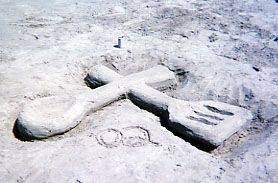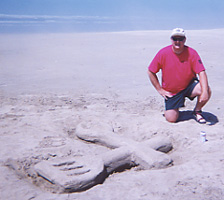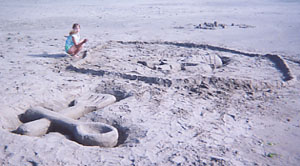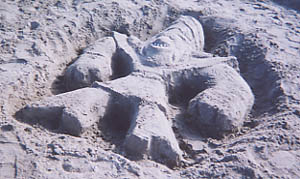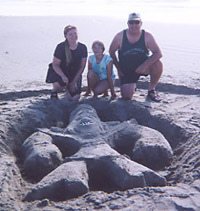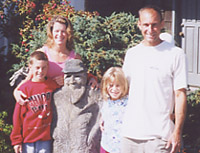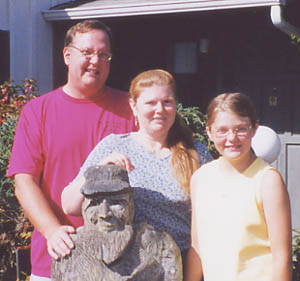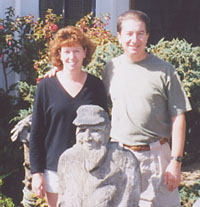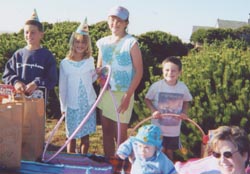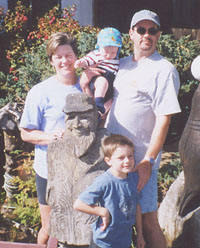 (Below) Two shots of Tori's birthday party. (Right and Below Right) We always get family shots with the carved sailor out front of the motel. Include Jan, Linda and Ruth from the front page, and that's our group for 2002.