Bowl For Breath 2003

This annual CF fundraiser was held on October 25th at Leilani Lanes in Seattle. Back for its fourth consecutive year, Rack Attack! is dedicated itself to throwing strikes, raising money and eating pizza, not necessarily in that order. 

While
Great Strides
is our main fundraising venture, each person that raises $50 gets to bowl for free and eat as much pizza as they can, so that's good enough for us. This year's event brought in $5,000 for CF research.
This year we had a fourth member of Rack Attack! as Robert's cubicle neighbor and Parks Trail Guru Tom Eksten dusted off his shoes and bowling ball to join us.

An extra special surprise was the guest appearance of
Shelby Dopp
, former CF bowling goddess who was up for the weekend from San Diego.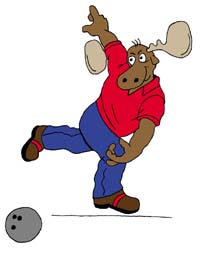 Need more for your bowling fix? Check out the complete Rack Attack! history:

(Above) The 2003 Rack Attack! team, (L-R) Carol, Tori, Robert and Tom.

(Right) Joy and Katie from the CF office checked in the bowlers.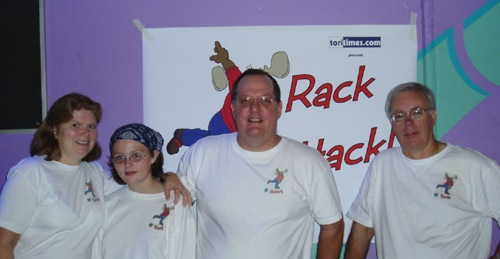 The bowling portion of the event went relatively well considering this is the only time each year we bowl, plus Tom had to shake off about 15 years of rust.

Tori bowled games of 86, 106 and 116 for a 308 series. Her last game included a turkey, which for you non-bowlers is 3 strikes in a row. Carol ended with a 286 series, bowling games of 108, 97 and 81. Tom's rust reared its head occasionally, but he still managed respectable games of 147, 134 and 120 for a 401 series. Robert bowled a 496 series, with games of 184, 147 and 165.

This wouldn't be a CF event without some cool prizes, and Rack Attack! hauled a few away this year. The team won a $20 gift certificate for having the highest team average, Robert won a $5 gift certificate for having the 2nd strike of the event, and Tom was the big winner with a $50 gift certificate from the raffle drawing.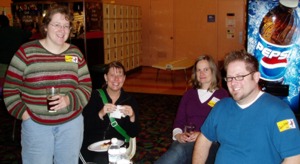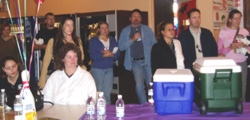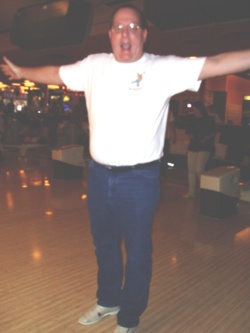 (Right) Eileen, Allison, Shelby and Ty were our alley neighbors this year, and of course they all had their yellow and white Rack Attack! stickers.

(Far Right) Robert showing his elation over a shot.

(Right) Part of the crowd during the raffle checking their tickets.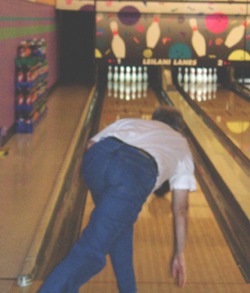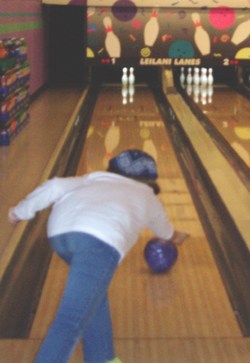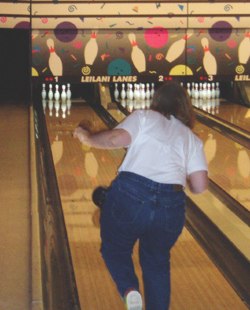 Three-Fourths of Rack Attack! showing off their form. (L-R) Tom, Carol and Tori.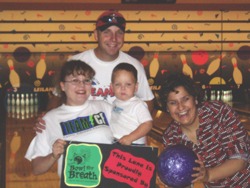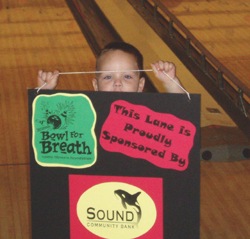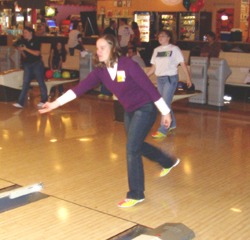 (Above) The Sound Community Bank team.

(Right) Cody with his team's lane sponsor sign.

(Below) Shelby showing off her form.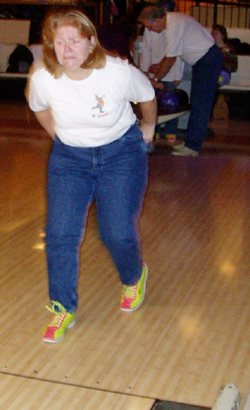 Carol not looking too happy after a shot.