Bowl For Breath 2000

This is annual CF fundraiser was held on October 21st at Leilani Lanes in Seattle. Seizing upon the obvious connection between moose and bowling, the team of Robert, Carol, Tori and Jan Contento created Rack Attack!, a team dedicated throwing strikes, raising money and eating curly fries. Dressed in their custom t-shirts, the team didn't set the bowling world on its ear, but did manage to help raise over $5,000 for CF research. We plan on being back next year with heavier balls and more people.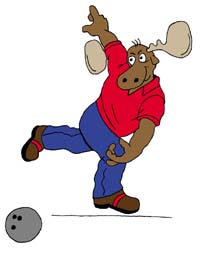 Three-fourths of Rack Attack! pose for a group shot.

Jan Contento, converts a spare, much to her surprise.

Carol throws a strike. It took three frames to get that smirk off her face.

Tori helped Allison Thrasher of the CF Foundation announce the drawing winners.

Tori and Jan holding their balls for a photo.

The entire Rack Attack! team.