Seahawks 12th Man Trailer

A group of Lake Stevens Seahawks fans led by Art Miranda and Justin Reid have restored a 1970's-era trailer into the ultimate tailgating accessory. Complete with a 42-inch plasma TV, satellite dish and custom paint job, it's the perfect place to spend a few hours before Seahawks home games.
Click here
for the
Seattle Times
article that details their story and
click here
for details on myspace.com.
The CF Foundation office has teamed up with these fans to help raise money for CF research by selling raffle tickets at home games. We've already given away gift certificates, baskets of goodies, bottles of wine, autographed Josh Brown cleats and a golf driver. Robert's been helping out selling tickets, so find your way to the Qwest Field north lot on Seahawk home dates, look for the big blue party machine, stop by to say hello, hang out for awhile and enter to win!

September 17th (Seahawks 21, Cardinals 10)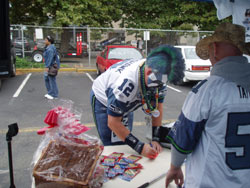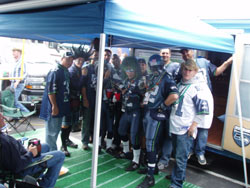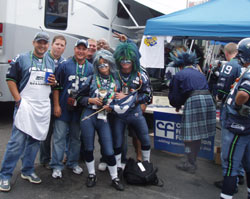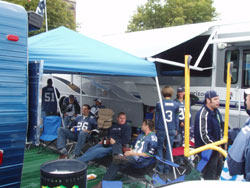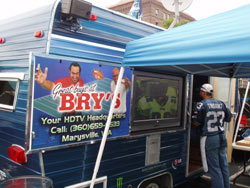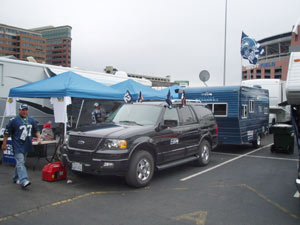 September 24th (Seahawks 42, Giants 30)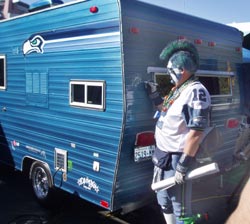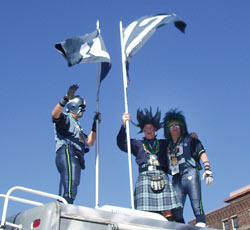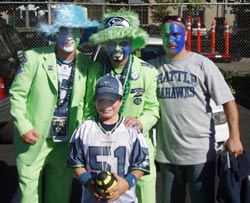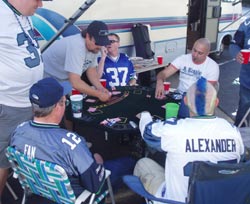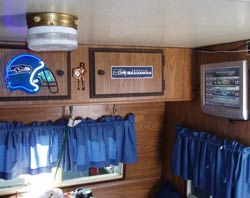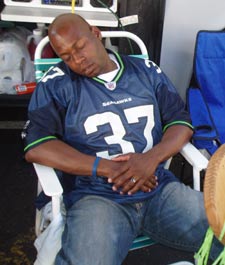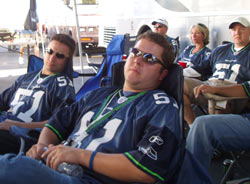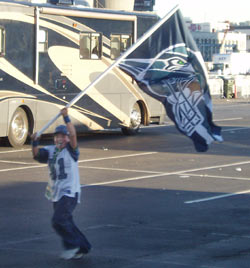 October 22nd (Vikings 31, Seahawks 13)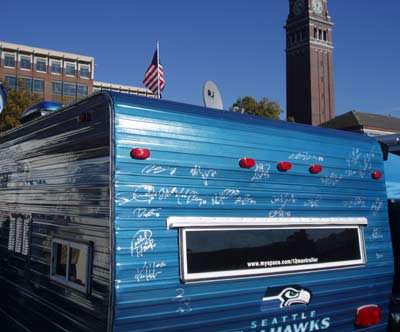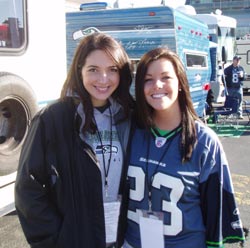 Who wouldn't buy a raffle ticket from these two? The
Gamma Phi Beta
sorority from the UW was out to help us generate foot traffic to the trailer and did a great job. They'll be around for the rest of the season, too!
(Left) The trailer newly adorned with Seahawk autographs.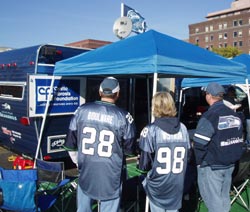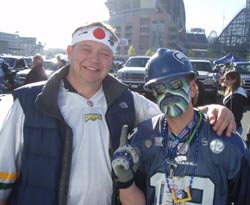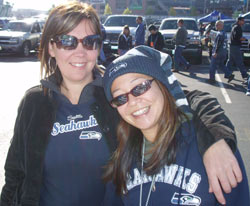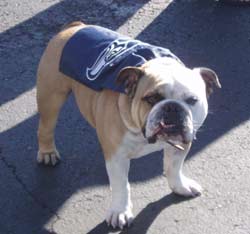 November 6th (Seahawks 16, Raiders 0)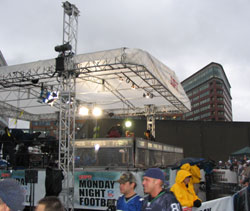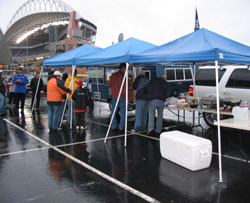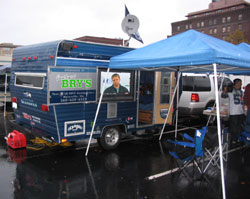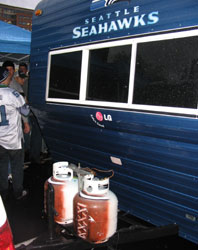 November 12th (Seahawks 24, Rams 22)

No photos this week, Robert was recovering from the gala the night before.

December 14th (49ers 24, Seahawks 14)

No photos this week, Robert bailed because of rain and wind, power went out at 10pm and didn't come back on until the next Tuesday.

December 24th (Chargers 20, Seahawks 17)

No photos this week, no trailer at the game. The less we say about this game the better.

January 6th (Seahawks 21, Cowboys 20 - NFC Wild Card Game)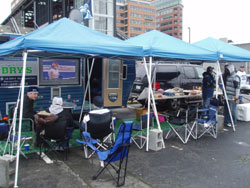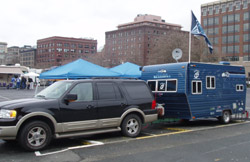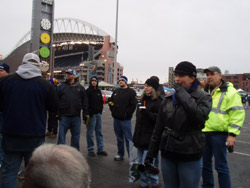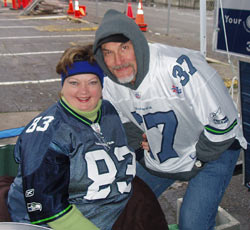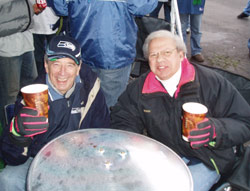 This was the last home game for the Seahawks this season. It's been a blast hanging out with these guys and spreading the CF fundraising gospel. The trailer was auctioned off for $6,000 at the CF Poker Tournament on February 10th. More info on that event is on our
2007 Poker
page. Below is a report on the trailer that aired on Fox Sports back in December.