Softball Odyssey 1999

After 12 years of playing on one team (sponsored by Vince's Pizza), 1999 saw the core of Vince's team (including Robert) play on no less than four teams (8th Street Sports Bar, Team Scrub, One Step Slower and Fujitec America). We started playing in March, and finished up in mid-September.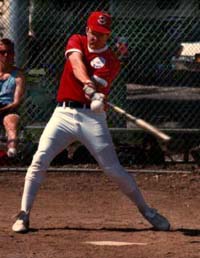 Here's Robert stroking a hit in a tournament in Portland,OR circa 1988. The gut's a little bigger now, but the swing is just as sweet!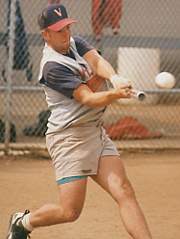 Here's Mike Brundage hitting the ball over the fence last year.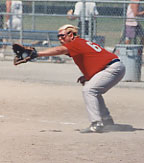 This is Mike's dad, Jim Brundage, using his two-cow's-worth-of-leather glove at first base.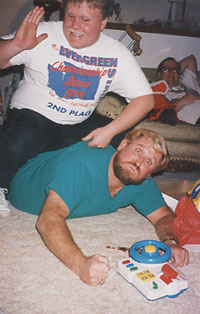 Here's Jim being sat upon by his nephew-and-sometimes-Catcher Joe. This is just how we like Jim - pinned to the floor and begging for mercy.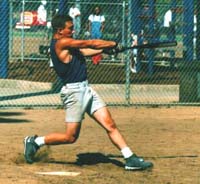 This is Trevor, 8th Street stud left-fielder, stroking a hit at the Western Regionals in Salem, OR, last year.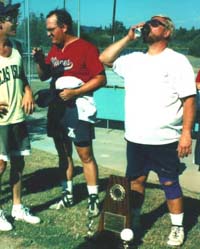 Here's Jim and Yogi celebrating a tournament win in Mt. Vernon, WA, a couple of years back. I look like I'm wondering who spit in my beer.

The 8th Street Review

League Play - 8th Street played in the Bellevue league April through July, and finished its season at 16-6, good for 3rd place. We also played in an over-our-head league at Russell Road Park in Kent, stuggling to a 3-15 record.

Tournament Play - While we played at some nice parks (Wenatchee, Russell Road, Game Farm), our play was too inconsistent, and we managed to make it to Sunday only twice, stumbling to a combined 6-10 record. We managed to not win any tournament, nor came away with any hardware.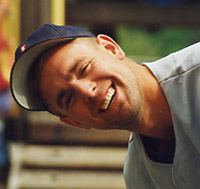 I'm Mike Brundage. How you doin'? Robert had another picture of me, so he put it in the 8th Street section. He's my favorite pitcher, and I know I'm his favorite shortstop!

Team Scrub Wrap-up

This was kind of a thrown-together team, with a lot of former Vince's players ('hey, if you're not busy this weekend, how about playing softball?') We played a couple of tournaments, played okay (no hardware), but more importantly, had a lot of fun.

One Step Slower Flashback

This was a team put together from former Renton rivals, Foxy's Pub and Vinces' Pizza. The team won a tournament in SeaTac (without Robert) that earned them a berth at the Men's E tournament in Wenatchee the first weekend in August. In Wenatchee, we won 3 games and lost 2, exiting the tournament on Saturday night. The best memory is the entire team drinking in Robert's motel room at 12:30am Sunday and convincing the front desk that we'll keep the noise down so they don't throw us out...but I've said too much already!

Fujitec America News

The fourth of four teams in 1999, we played in the Bellevue 2nd Season league at Marymoor Park. We finished the regular season at 12-2 (tied for 2nd place) and skipped the playoffs to go play in a tournament. It's now 'wait until next year' time!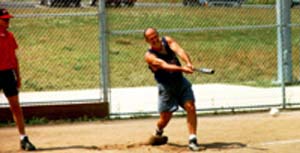 Phil McConnell hitting an opposite-field single for Team Scrub in Bellingham, WA. C'mon Phil, wear a cap, the glare's killing us!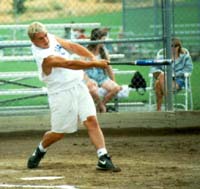 Here's Phil's son Aaron (AKA Flea) in action in Wenatchee, WA.

This is Mike's wife Laura with their daughter Sydney. I didn't have a photo of another sweaty guy handy, so I put in a shot of a couple of cuties instead. Laura is one of the many people that try to tolerate us during softball season, and we thank all of them for not killing us for the insurance money.

The Good Old Days (1998 and before)