Party with a Purpose 2004

The second annual Party with a Purpose was held on Wednesday, September 29th, at the Rock Bottom Brewery in downtown Bellevue. This event is a chance for Eastside business folks to get together and raise money for CF. Everybody gets drink coupons for one of the brewery's great beers and gets to munch on some tasty food.

This year's event raised over $13,000, a 30% increase over last year!
Your Tax Dollars at Work
, our business-oriented drinking team (or drinking-oriented business team), had two members this year, Robert and the retiring-next-day
Tom Eksten
. In addition to the drinks and food, we all took advantage of the free massages provided by Premier Chiropractic (
www.premierchiropractic.net
). The team from Microsoft was presented the Silver Stein Award (the Steiny) for raising the most money.
The 2004 Your Tax Dollars at Work team posing with Allison from the CF Foundation office.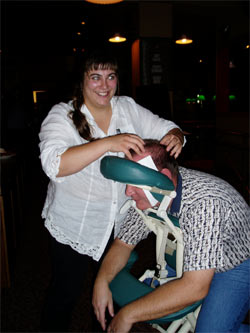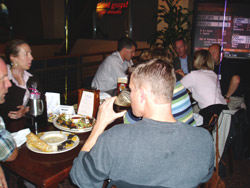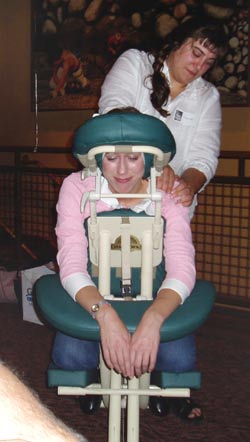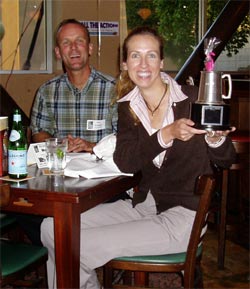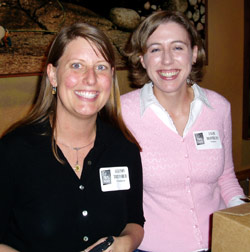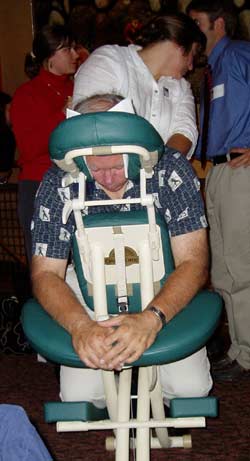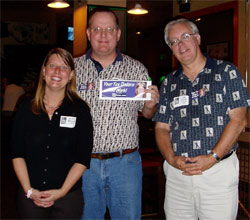 (Above) Eatin' and drinkin' for a good cause.

(Left) Allison and volunteer Angie Brothers.

(Above, L-R) Angie, Robert and Tom getting their massages from Premier Chiropractic.

(Right) The Silver Stein goes to Microsoft.