Great Strides University 2005

Saturday, December 10th

This was a first-time event, bringing together those of us who raise money for CF research to strategize how to improve our fundraising. Candles Catering fed us a great breakfast to start things off, then Bruce Montgomey from Corus Pharma and Christopher Goss from the Theraputic Development Network gave presentations showing where our money is being spent. After that we all broke up into groups to discuss things like walker recruitment, fundraising and corporate sponsorship ideas.

After each table summarized their discussions, Robert gave a short review of where our fundraising has been and where we're headed. He also unveiled the nickname for our branch of Great Strides University - The Fighting G-Gnomes!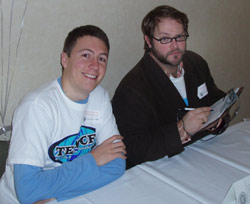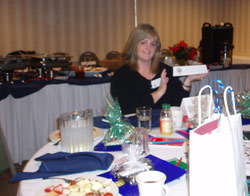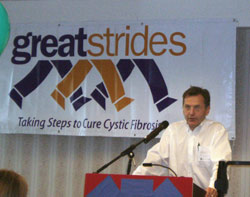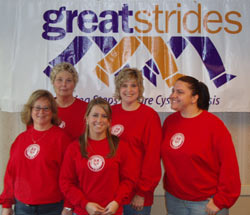 Brian and Ty at the check-in table.

Deanne Plunkett at the irony table - she's waiting by herself at the Team Mentoring table until the rest of the students show up.

Dr. Montgomery from Corus Pharma.

Dr. Goss from the Theraputic Development Network.

Part of Team Jenny with their matching Great Strides University sweatshirts.

Mike & Nicci Brewer, Pete and Kim Hall and Joni Kirschenman at the Team Walker and Recruitment strategies table.

Your 2005 graduating class.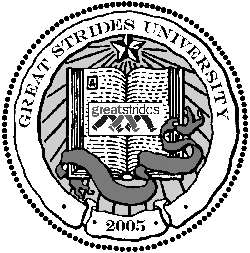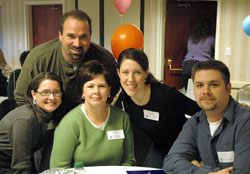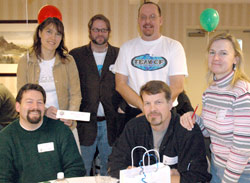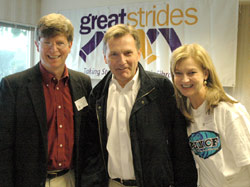 Dr. Goss, Dr. Montgomery and Dottie Moore.

Robert's table, 'Motivating your team.'

Robert explaining something.