Great Strides
walks help fund research to find a cure for cystic fibrosis. In their 13th year,
Great Strides
walks are held at over 320 sites throughout the country. Collectively, these walks and other related events raise over 12 million dollars a year, including $158,000 at the Seattle site and $100,000 for the Tacoma site. Robert had the honor of being the 2001 Great Strides Committee Chairman for the Seattle event. Our team,
Tori's Troopers
, raised $8,106 in 2001. That ranks us 4th highest as a team for the Seattle event, 8th for the entire state. A big thanks to all those who contributed! Here's a summary of our fundraising efforts.
Lynden Bike-a-thon (May 12th)

Lynden is a small town in Washington State, near the Canadian border. Bill VanderPol of Lynden has organized this event to raise money for CF research for the past 18 years. Robert rode again this year, eager to beat his 2000 lap total of 77.

The course is about 2/3 mile long, and circles in and around the fairgrounds (including the barns) in Lynden. The event attracted over 180 cyclists of all ages. After five hours, two hot dogs, a lot of Gatorade and one unfortunate collision with a barn (those barns give more than they take), Robert had completed 80 laps for a total of 53 miles. Post-event inspection turned up a bruised thigh, a cut finger and a magnitude 9.0 wedgie.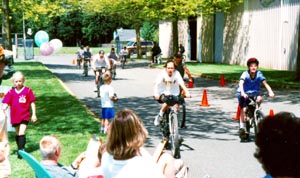 Cyclists head for the Start/Finish line at the 2000 event.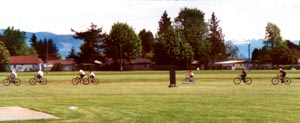 The backstretch of the 2/3 mile course. Besides the walkways, the course took you through four of the barns used for exhibits during the fair.

Tacoma Great Strides (May 19th)

This is the 4th year for the Tacoma Great Strides, held at Point Defiance Park, and follows roadways that are separated from traffic for the most part. The event raised $98,000 this year, a 20% increase over 2000. One of the highlights for us each year is to see how much Trooper Designated Shoppers Jan Contento and Maria Van Horn can spend at the silent auction. (this year was over $300). Back again this year was Outback Steakhouse with great post-walk food.

Tori's Tacoma Troopers (l-r): Carson Bosanko, Russ Bosanko, Maria Van Horn, Jan Contento, Laura Van Horn, Jennifer Bosanko, Robert, Carol and Tori (in cart).

One of the great things about this walk is the scenery. Here are Laura Van Horn and Tori sitting on the shore of Puget Sound as a ferry passes in the distance.

Seattle Great Strides (May 20th)

The Seattle Great Strides walk begins and ends at the Seattle Center, weaving for 3.5 miles through downtown and the waterfront. The collected a net $158,000, with the Troopers accounting for its own team record of $8,106. Robert was the Committee Chairman again this year, which meant he got to go up on stage with Tori and accept a $3,000 donation from Chiron, a biotech company that makes Tobi, an inhaled antibiotic used by CF patients.

The Troopers had a record number of  walkers, 59 people and 2 dogs, including teachers and students from Tori's school and Brownie Troop #372.  This year's team photo needed a wide angle lens!

Continuing the trend of being well fed, we had a big barbeque courtesy of Longhorn Barbeque.

Thank you CF Foundation and Seattle Walk Committee!

We cannot say enough about the staff at the Seattle CF Foundation office - they are the best! None of this could happen without their hard work and dedication, and we are truly grateful to have people like Allison Thrasher, Shelby Dopp, Dottie Moore and the rest of the staff around to help kids like Tori beat Cystic Fibrosis.

Even though the walk committee may think its biggest accomplishment was eating pizza, it's been great getting such an enthusiastic group together and making these events better each year.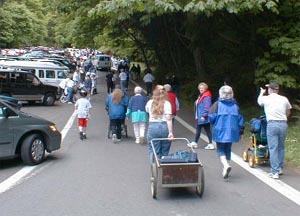 The challenge of the Tacoma walk is this hill for the first quarter-mile. Tori got to ride up the hill in a van while the rest of the team hoofed it.

A new fundraiser for this year was a rose sponsorship. For $100, a person gets a big paper rose with a name or message on it, and then they're displayed at the walk site. The Troopers had five roses this year!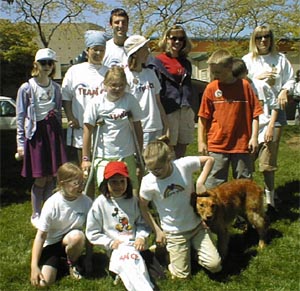 Tori has tremendous support from the Explorer students and staff. In the back are teachers Mr. Johnson and Mrs. Davis, surrounded by some of their Explorer students. Mr. J earned extra credit by helping pull Tori around the walk course.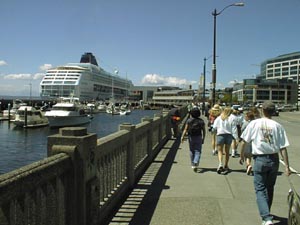 Part of the route is on the waterfront. Here is the cruise ship Norwegian Sky, which a couple of days earlier threw passengers around when the autopilot malfunctioned.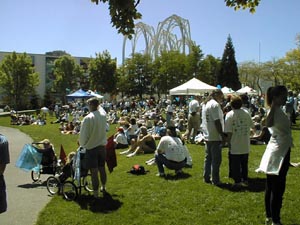 The Great Strides crowd grows every year. Here's a shot of the crowd enjoying the sunshine and blue skies.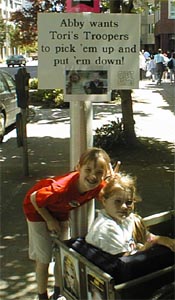 Here's Isabel Ridder with Tori in front of the first of five kilometer marker signs the Troopers had this year (A $500 donation gets you a sign).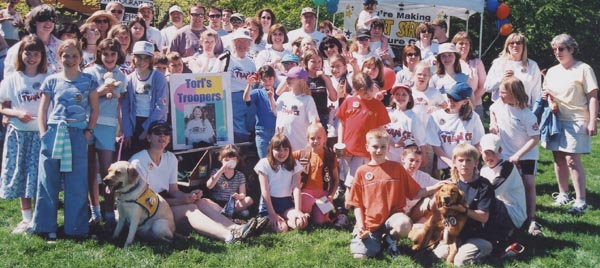 The walkers of Tori's Troopers pose for a team photo. The 59 walkers more than doubled our total from last year.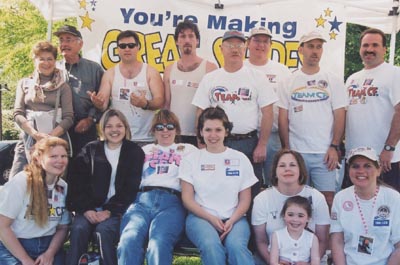 Dawn Cochran takes a break. She had so many buttons and stickers from walk teams she had to start putting them on her back.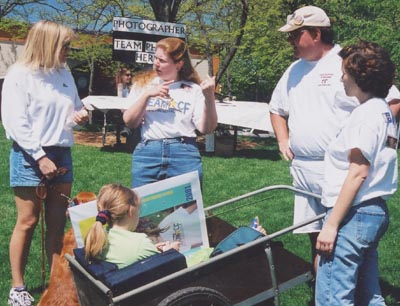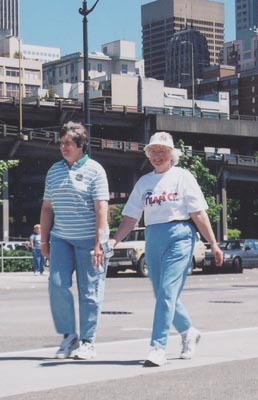 The CF Parents Support Group (and others) pose for a group shot.

Ruth Wieser and Jan Contento on the walk route.

Carol explaining something, we just don't have a clue what it would be. This is also a good shot of the garden cart setup we used to haul Tori around.